Welcome
We are waiting to welcome you in the fresh and well-organised environment created for you by the people of the RIGAKIS hotel, so that you can enjoy a singular holiday experience in the enchanting east end of Pefkochori. Located just 600 metres from the centre, one can combine a peaceful holiday with some intense moments of fun by choosing from the hundreds of options that are just a stone's throw away.
USER REVIEWS
My favorite beach bar
Best Beach bar in pefkohori - great music, lovely Staff, great location! Love the barrels, the swing and the sandbags to relax! The Cocktails are great! Just can recommend this place!! Really can recommend the mojito here, one of the bests i had!
See our hotel
Hotel Gallery
Restaurant - Bars
Flavours and aromas of local cuisine, exotic cocktails and delectable snacks, the swimming pools and magical beach bar are just a few of the things that guarantee to make your holiday experience a unique one. Enjoy all the flavours from Mediterranean cuisine to authentic local dishes, which you can combine with selections from a variety of wines and drinks in the delightful surroundings of our bar and restaurant.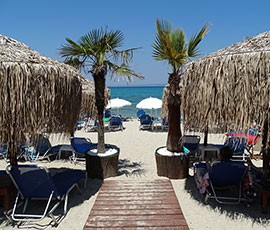 BEACH
The hotel's location is truly magical since just 10 metres away from the rooms you can enjoy a swim from our organized beach with sun loungers provided by the hotel and service from the cafe bar.
Have a coffee, drink, or enjoy fruit salads, snacks for ouzo, and various other snacks right by the sea.
Our hotel umbrellas and sun loungers are free for guests when they purchase a coffee, soft drink or snack.